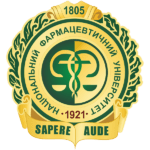 Ukrainian National University of Pharmacy Kharkov
A great legacy of pharmaceutical education from a 200 – year- old university in the capital of pharmacy in Ukraine.
Foundation
The National University of Pharmacy (NUPh) was founded in 1805 as a pharmaceutical department of Kharkiv Emperor University. In 1812, primarily based on the University's chemical laboratory, the new pharmaceutical laboratory was opened. Thus college students and those who have been preparing for examinations to get a pharmaceutical degree had an opportunity to obtain training in pharmacy, pharmacognosy, forensic medicine analysis, and physiological chemistry.
1812 – the first pharmaceutical laboratory was organized in the Kharkiv Emperor University.
1921 – Kharkiv Pharmaceutical Institute was structured under the "unification of pharmaceutical education" program
1992 – Establishment of Ukrainian Academy of Pharmacy from Kharkiv Pharmaceutical Institute
1999 – obtained the status of the Ukrainian National Academy of Pharmacy
2002 – Reorganization of the Ukrainian National Academy of Pharmacy to "The National University of Pharmacy
Life at UNUPK
The Cultural Centre (CC) is a special way of life. It is an opportunity to live studentship creatively, brightly, interesting, rich, and useful for the university. CC is a place of different generations of students' informal communication. It is a peculiar creative center where artistic abilities and talents are realized, new friends are found, joy and creativity failures are recognized.
Taking part in students' life is a guarantee of success, recognition, and disclosure of their own talents.
Accommodation
HOSTELS
NUPh hostel system is well-organized and equipped with everything you need for comfortable living conditions. 100% of arriving students are provided with accommodation in hostels. NUPh campus includes:
6 hostels
Department of household maintenance and hostel service
Service on educational work and organization of students' life
Settlement and student registration service
Eligibility
The eligibility criteria for MBBS in Ukraine for Indian students are as follows:
Age limits for admission – 17 years to 25 years.
Students must complete 10+2 (Physics, Chemistry & Biology) from a regular board of India or abroad.
Students that studied under open board or correspondence classes are not eligible.
Minimum 50% combined aggregate in Physics, Chemistry, and Biology.
NEET qualification (with a 50% score for the general un-reserved category) is a must if the student intends to practice in India after the MBBS study in Ukraine.
General Info
International Recognition for Ukrainian National University of Pharmacy Kharkov






Want to get into Ukrainian National University of Pharmacy Kharkov?
Wondering about the admission process and course price in Ukraine?
Explore more universities of Ukraine