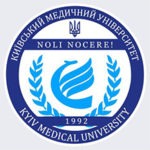 Kyiv Medical University Of Uafm (kmu)
The first private university during the Soviet era now enjoying the highest level of accreditation for medical education and research.
Foundation
Kyiv Medical University of UAFM (KMU) is one of the oldest private medical universities in Ukraine, which was established in 1992, based on the combination of classical and alternative medicine.
In the consolidated rating of Ukrainian universities 2018, Kyiv Medical University was ranked 119th among 237 higher education institutions. In 2018 Kyiv Medical University was ranked 8th among all Ukrainian higher education institutions by passing score level.KMU ranked 6th among the top 10 private universities in Ukraine.
It is ranked 25th among 61 higher education institutions in Kyiv. During the enrolment campaign of 2018, Kyiv Medical University of UAFM took 5th place among the 10 best medical universities with the best External Independent Evaluation average scores. As of May 2019, about 1120 foreign students study at KMU from 56 countries.
Life at KMU
The student's campus consists of eight comfortable hostels connected to the Internet with great accommodations with reading rooms and gymnasium, everything necessary for making the place great for studying and unwinding.

BSMU also provides sports clubs with facilities for activities like volleyball, basketball, wrestling, table tennis, chess, athletics, mini-football are available for all the students.
Accommodation
Round the clock security.
24-hour provision of hot water and electricity.
2 elevators for students.
Individual internet facility.
Equipped kitchen.
Laundry facility.
24-hour provisional store and supermarkets available at a walking distance of 5 – 7 minutes.
7 min walking distance from the Metro station.
10 min travel distance from the University's main campus.
Student canteen in the hostel.
Eligibility
The eligibility criteria for MBBS in Ukraine for Indian students are as follows:
Age limits for admission – 17 years to 25 years.
Students must complete 10+2 (Physics, Chemistry & Biology) from a regular board of India or abroad.
Students that studied under open board or correspondence classes are not eligible.
Minimum 50% combined aggregate in Physics, Chemistry, and Biology.
NEET qualification (with a 50% score for the general un-reserved category) is a must if the student intends to practice in India after the MBBS study in Ukraine.
General Info
International Recognition for Kyiv Medical University Of Uafm (kmu)






Want to get into Kyiv Medical University Of Uafm (kmu)?
Wondering about the admission process and course price in Ukraine?
Explore more universities of Ukraine